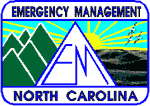 Emergency Management is the combined efforts of local, state and federal governments to mitigate against, prepare for, respond to, and recover from disasters, both natural and man-made. The local Emergency Management Office works to identify and analyze the hazards that may face Ashe County and develop contingency plans for each hazard. The plans are regularly tested, refined and tested again, all with the goal of protecting or saving lives and property.
Ashe County uses a Community Notification System to help disseminate important or critical information. Please click the link "Citizen Alert" button below to add email addresses or cell phone numbers.
Click here for the American Red Cross mobile tornado and disaster alerts.
Ashe County Emergency Management Office Contact:
Emergency Management Coordinator
336.846.5521
Fax: 336.846.5523
patty.gambill@ashecountygov.com
Fire Marshall
336.846.5533
Fax: 336.846.5523
josh.steelman@ashecountygov.com
Hours of Operation:
8:00 a.m. to 5 p.m., Monday through Friday