---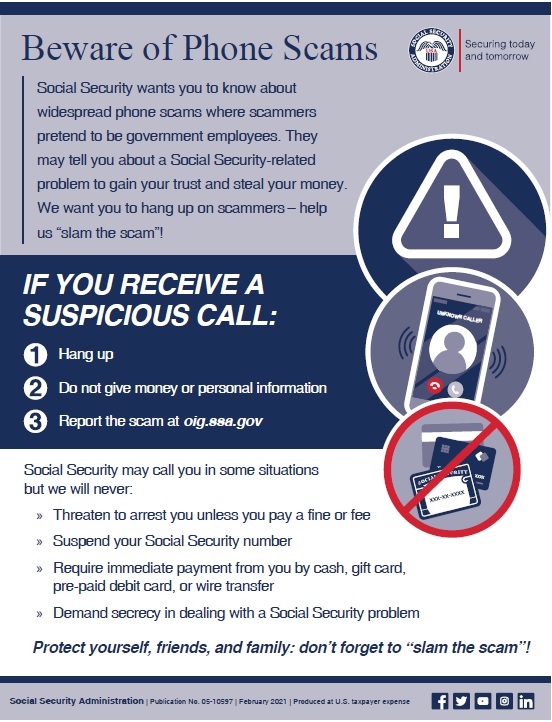 ---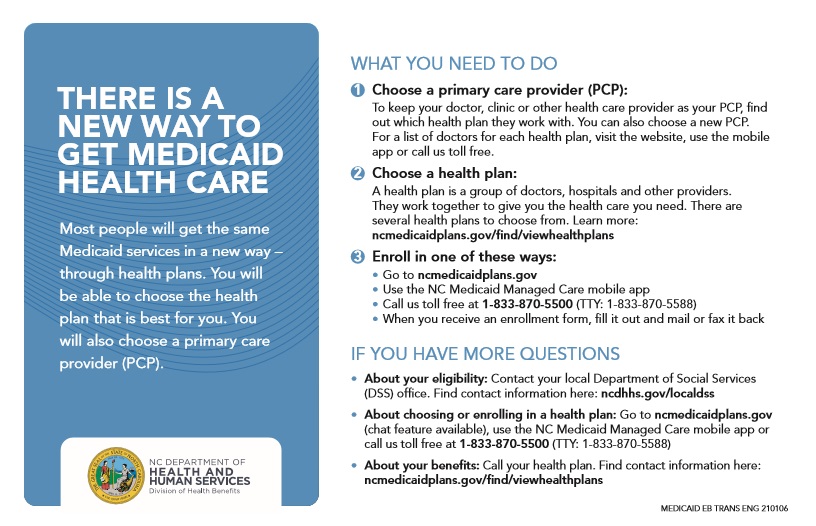 ---
NCDHHS to Provide Automatic Payment to Thousands of Seniors and People with Disabilities to Help with Winter Heating Bills. Click here to learn more.
---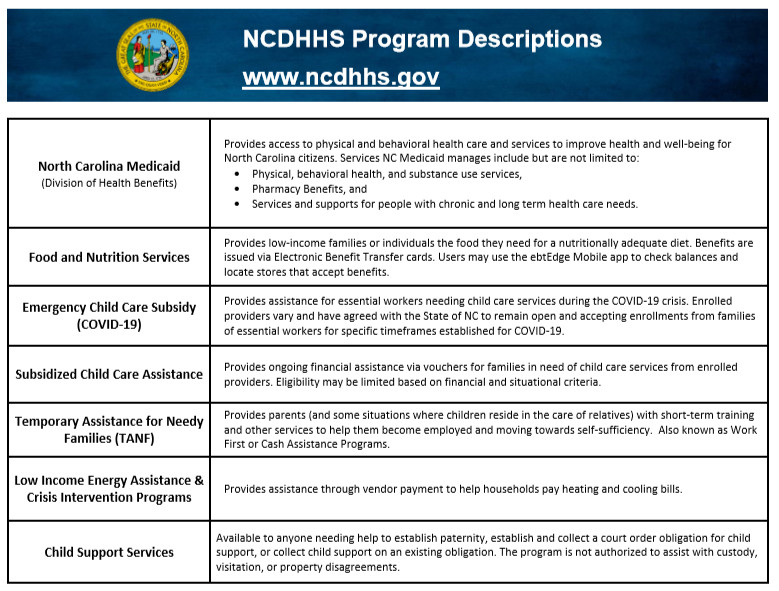 ---
Please click here for information concerning the Low Income Home Energy Assistance Program (LIHEAP) Block Grant Plan
For more information on these programs, including how to apply, please click here.
---
DSS Additional Online Resources/Covid 19
The mission of the Ashe County Department of Social Services is to assist families and individuals by helping them maintain, and/or enhance their quality of life; to prevent abuse, neglect, and exploitation of vulnerable people in the community. The Department works closely with health care professionals, community leaders and advocacy groups; local, state and federal entities; and many other stakeholders to make this happen.
Income Maintenance Programs
Among Social Services' income maintenance programs are the Work First program, food and nutrition program, low income energy assistance program, Medicaid program and special assistance for adults.
Service Programs
Among the service programs, Social Services administers adoptions, adult care home case management, adult services, case management, child support, adult rest homes, general assistance, guardianship, in-home aid, placement services for adults and children, protective services for adults and children, representative payee, services for the blind, medical transportation and many other programs focused on helping vulnerable individuals within our community.
---
Community News:
John H. Chafee Foster Care Program Plan for 2020-2024
Hawkins v. Cohen federal lawsuit information, please click here for more information!
Hawkins v. Información de la demanda federal de Cohen, haga clic aquí para obtener más información.
Click here to learn more about North Carolina ePASS. You can learn if you are potentially eligible for Medical Assistance and Food and Nutrition Services benefits by completing an electronic pre-assessment screening.
---
The Ashe County Department of Social Services is located on the first floor of the new county courthouse. Following are the services provided by our agency and the direct telephone numbers to each service.
Child Support: 336.982.7820 Fax: 336.982.7827
Children's Services: 336.846.5644 Fax: 336.846.5779
Medicaid: 336-846-5719 Fax: 336-846-5895
Medicaid Transportation: 336-846-5688 Fax: 336-846-5764
Adult Services: 336.846.5644 Fax: 336.846.5779
Food & Nutrition Services: 336.846.5719 Fax: 336.846.5895
Work First, & Daycare Assistance: 336.846.5644 Fax: 336.846.5779
Administration or inquiries: 336.846.5644 Fax: 336.846.5779
Thank you for visiting the Ashe County Social Services Website. We hope you're able to find what you're looking for, but if not, please feel free to email us at dssinfo@ashecountygov.com and someone will respond to your inquiry as soon as possible.